Already a Member? These girls ain't Einsteins, but they're smart enough to know that fucking the teacher always gets you better grades! Welcome to hardcore higher education at its finest! It's hard to pay attention in class with a dripping wet pussy distracting you, so these school girls have learned to apply themselves after-class. They may be C students, but in cock sucking these babes each get an A plus!. Enjoy the hottest teacher-student sex action on the web. Who needs brains when you've got this kind of beauty? Click Here to Get Instant Access.
Slutty Student Fucking Both Teachers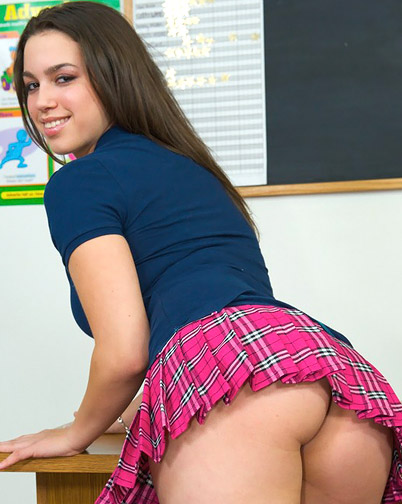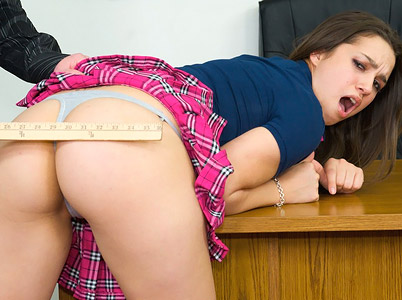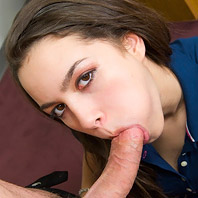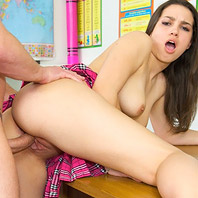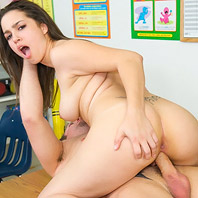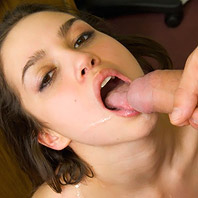 A+
Name: Courtney James
Story: Courtney is a hard bodied brunette that is stuck in her teacher's classroom. when her teacher catches her cheating by adding stars to her name board. To keep out of trouble, she is told to strip down. she certainly does that and gyrates all over the desk and he even spanks her. Having her naked ass bent over the desk has both her and Alex getting horny. She starts sucking his dick when he lays her back on the desk and starts banging her. He pounds her tight twat hard and she loves it. he bends her over the desk doing doggystyle and she is in heaven. When she rides him and gets caught by Jenner, she starts fucking him in many positions too.
At Sex For Grades, it's a two-way street paved with benefits. Teachers get used and students get abused, all in the name of education.
Getting Dick In Detention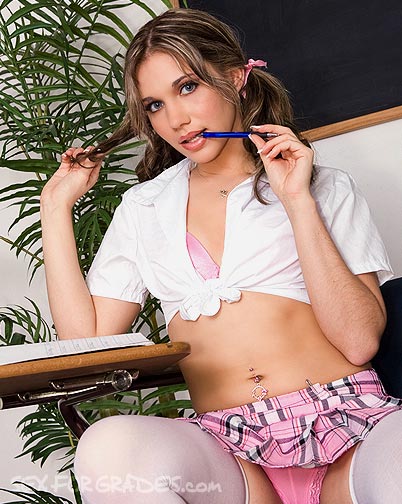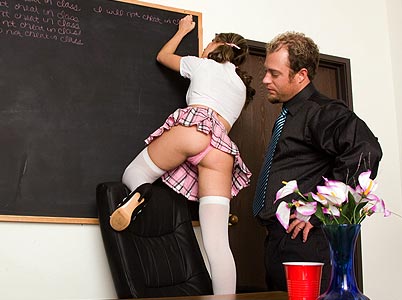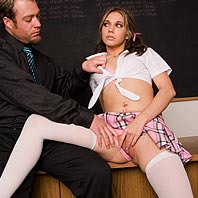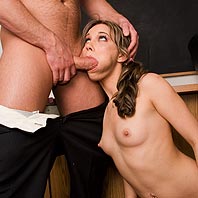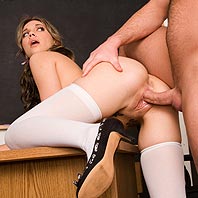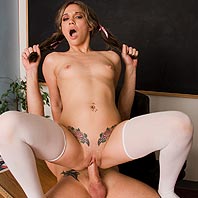 A+
Name: Dakoda Brookes
Story: Dakoda is perpetually late for all her classes and today has to serve detention for her chronic tardiness. The teacher couldn't help but notice her doodling during detention, so he made her write degrading lines on the chalkboard, "I will not dress like a slut." With her tight pink panties peeking out from her plaid schoolgirl skirt, the teacher felt the need to abuse his power and take advantage of this bad ass hottie. Watch her get choked, hair pulled, and fucked like a rag doll before spitting out the teacher's cum.
To make the grade, these hotties know exactly how to play the game. Watch them get worked in the hottest teacher-student action in the world!
Teasing Coed Slut Taught A Hard Lesson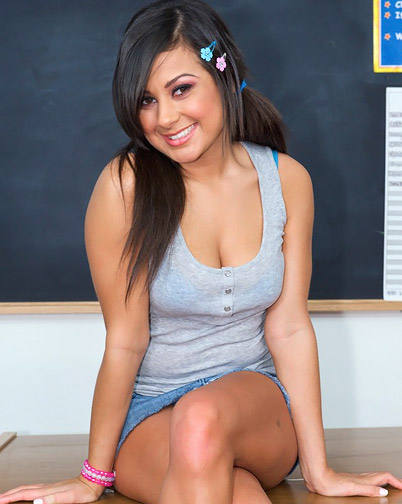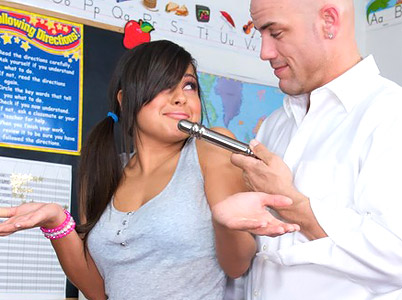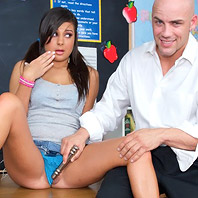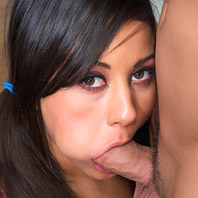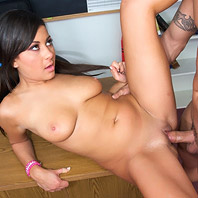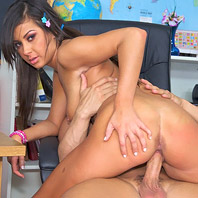 A+
Name: Samira
Story: If you were her teacher, you'd want to fuck nubile brunette Samira too! As soon as he walks into the detention room, stud Derrick Pierce knows that this is one dirty slut who needs to get taught a lesson. She's sitting there with her legs spread in a short skirt, showing off her panties, which barely cover her tiny young pussy. She's leaning forward and exposing her boobs too, and this seals the deal. Without much chit chat, Derrick just shoves his aching cock down the sluts throat, then bends her over the desk, hitching her skirt up and slamming his cock inside her. He teaches the coed tart a lesson she'll never forget!
Nobody ever asks how you graduated, just that you did. Watch these sexy students make the grade the only way they know how.
Perky Brunette Student Bangs Teacher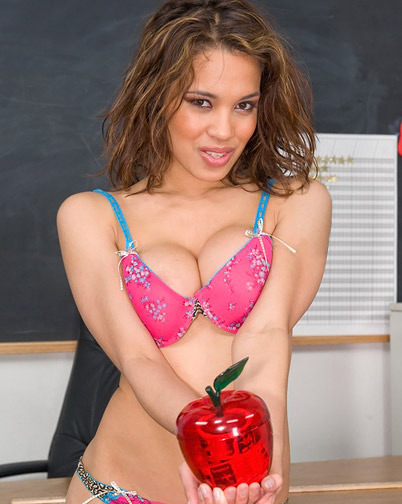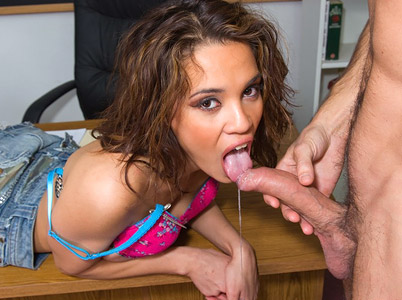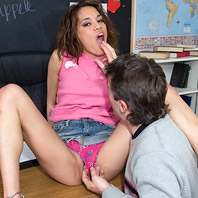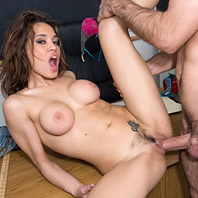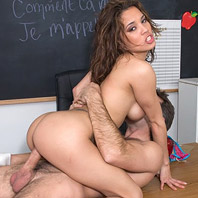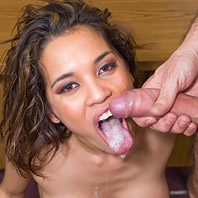 A+
Name: Renae Cruz
Story: Renae is just another bored student in detention. She decides to liven things up in her French lessons by letting her professor, Steven get a good look at what's under her skirt. She sits back on his desk and he starts licking her tight pussy. She wiggles when he finger fucks her and then leans over the desk to suck his dick. She deepthroats his cock and works it at all angles before bending over the desk to have her asshole eaten out. When he slips his pecker into her from behind in a doggystyle bang, she is moaning loudly. He flips her onto her back and fucks her some more and her perfectly rounded tits jiggle.
It might be inappropriate teacher behavior, but if you could get away with it, you know you'd do the same! See why fucking a student is worth getting fired for!